01-10-2018, 01:39 PM (This post was last modified: 01-10-2018, 01:42 PM by Davide Lo Bue.)

This is a tool developed by Pumba98,
I decided to publish it here after asking permission from the author to give you the opportunity to create the Multiclient updated to the new version of Nostale immediately after release without waiting for my release.
With this tool you can create a Multiclient for NosTale to start NosTale multiple times.
Features:
- Create a Multiclient,
- Create Multiclient for P-Server,
- Start Multiclient,
- Create Multiclient Shortcut on Desktop,
- Automatic Creator Updates,
- German and English Translation;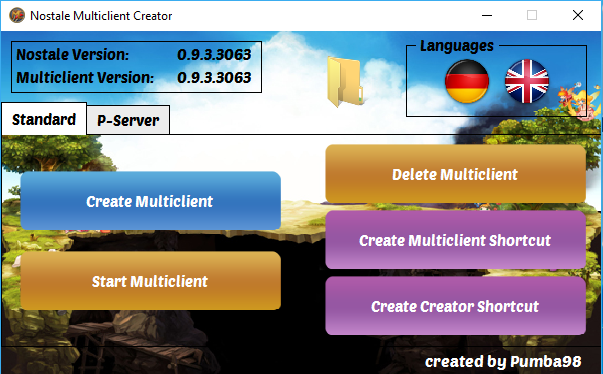 Installation:
- Download the .zip File and extract the Folder anywhere,
- Run MulticlientCreator.exe and select the NostaleClientX.exe in your NosTale Folder;
Download link:
https://www.elitepvpers.com/forum/nostal...eator.html